Product Images
What is Phaeton Kiosk?
Phaeton kiosk is a nostalgic and aesthetic mobile vehicle in phaeton form which may be transported easily thanks to its original phaeton wheels and may be designed and equipped ergonomically for all kinds of sales. It is actually a mobile business place.
Phaeton Kiosks are manufactured in limited number in boutique manner as a result of an intensive effort.
Phaeton kiosk may have various names in the daily life. For example;
Mobile kiosk, Mobile shop, Mobile business place, Mobile Cafe, Portable Kiosk, Portable Car, Portable Business Place, Portable Business Place, Coffee Cart, Ice Cream Car, Kebab Car, Waffle Car, Mobile Waffle Shop, Mobile Stand, Liquor Kiosk , Newsstand, Pizza Kiosk, Turkish Bagel Kiosk, Doner Kiosk, Phaeton Bar, Mobile Vitamin Bar,… etc.
Advantages of Phaeton Kiosk;
Being the boss of your own job,
Moving your workplace to another location,
Selling different products in your own workplace
Where it is used?
They may be located easily in and out of town; in open-green areas and surrounding places, areas where entertainment, recreation and picnic needs are fulfilled and recreational areas where all kinds of sportive activities like soccer, tennis, swimming pool and golf may take place.
Outstanding Features of Kiosks;
Quality Material and Hand Workmanship,
Production with Old Methods,
Safe and Robust,
Nostalgic and Aesthetic View,
Adaptable to all kinds of product sales,
Children Pars, Public Parks and Hobby Gardens,
Potential for Drawing Customers Safely,
SDistinctive Presentation of the Products Sold,
Customized Equipment Assembly,
Ergonomic Use,
Transportability and Mobility,
Ability to sell all kinds of products,
Easy Use in Open-Confined Spaces,
Various Size and Color Options,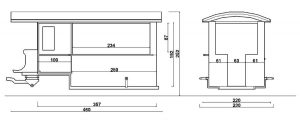 There are numerous place options for the kiosks intended
especially to be used in open areas
;
City Centers, Points with Intensive Pedestrian Traffic,
Roads Closed to Traffic and Walking Routes,
Shopping Malls and Fast-Food Restaurants,
Fairs, Exhibition Stands,
Funfairs and Entertainment Centers,
Children Pars, Public Parks and Hobby Gardens,
Tourism Establishments, Holiday Villages, Hotels,
Historical Places, Protected Areas and Museum Gardens,
Places Surrounding Religious Centers,
Gardens of Hospitals and Health Centers,
Zoological Gardens and Theme Parks,
Marinas and Piers,
Airports,
Subway and Train Stations,
Bus Terminals, Garages and Parking Areas,
Petrol Stations, Rest and Service Areas,
Residences and Luxury Housing Estates,
Places Surrounding Indoor and Outdoor Sporting Facilities,
Wedding Halls and Countryside Wedding Venues,
Organization Firms,
Movie and Photo Studios.
Product Features
Capacity
Internal Area: Width 185 cm. Length 350 cm. Internal (base-ceiling) height 210 cm (+2, -2 cm tolerance )
Hood
Acrylic brand may be preferred against water and sun lights, optional.
Harnessing
A model polyester horse may be placed in front of it (with leather harness and accessories)
Descriptions
XL Phaeton Kiosk is a nostalgic mobile shop intended for all kinds of exhibitions and sales. Phaeton Kiosks are manufactured in a limited number in boutique manner as a result of an intensive effort. Its main frame is made of steel construction and covered by steel/ aluminum composite. Acrylic auto paint is applied to sheeted phaeton kiosks in the paint spraying booth following special lining. Corners and ceilings are covered by wood lathes for a nostalgic appearance. Wooden parts are made of first class less snagged and dried pine and water based outdoor varnish is applied. Ash tree dried for 4-5 years is used in phaeton's wheels and produced completely by hand. 2,5 cm rock wool is applied optionally and additionally to the ceiling for heat insulation. Internal area may be customized by the product group to be sold by the customer. For example 100-120 lt. clear-waste water reservoir and sink battery terminals may be equipped optionally. Furthermore under counter refrigerator and MDF cabinets (sliding-drawers) may be customized. Top of the under-counter units may be covered by quartz (www.calisco.com.tr). Over-the-counter kitchen equipments may be provided by the customer. Electric installation may be installed preferably for 220/380 V in standard way. Necessary outlets are available in the internal parts. Lightings are mounted as LED spots. Shipping dimensions: Width: 230 cm, Length: 460 cm. Ground clearance: 252 cm. (+3, -3 cm. tolerance).
Tags
Phaeton kiosk, Mobile shop, kiosk, phaeton, akhisar phaeton shop, akhisar phaeton, phaeton factory, phaeton kiosk manufacturing, Phaeton stand, XL Phaeton Kiosk, Nostalgic mobile kiosk; aesthetic mobile kiosk